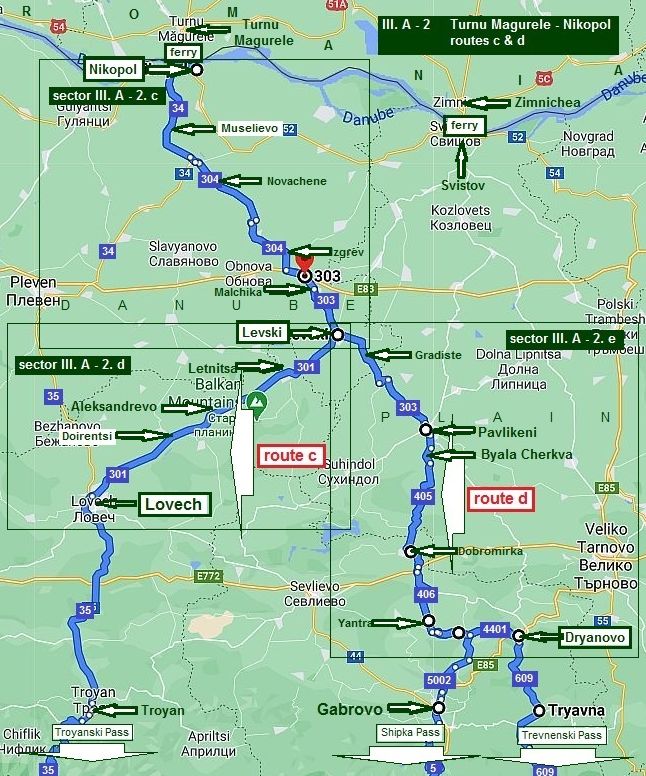 2. Turnu Magurele – Nikopol: ferry
Routes c & d
Another two routes from Nikopol to south I will mention here are:
Route c
From Nikopol to Levski to Lovech to Troyan to Plovdiv (via Troyanski Pass).
This route I recommend to bicyclists loving long climbing up the mountain (Troyanski Pass);
and
Route d
From Nikopol to Levski to Pavlikeni to:
- Gabrovo to Kazanlak to Haskovo (via Shipka Pass) or,
- to Tryavna to Stara Zagora to Haskovo (via Trevnenski Pass).
You know, very detail information for Balkan Passes can be seen in:
Chapter I. Passes in Balkan
Sector I. A Point 5. Troyanski Pass (Beklemeto),
Point 7. Shipka Pass,
Point 8. Trevnenski Pass.
Again, my goal is to recommend routes with minimum of traffic.
A special attention I will give for tourists wanting to visit Veliko Tarnovo as well, I know it is popular as a tourist destination.