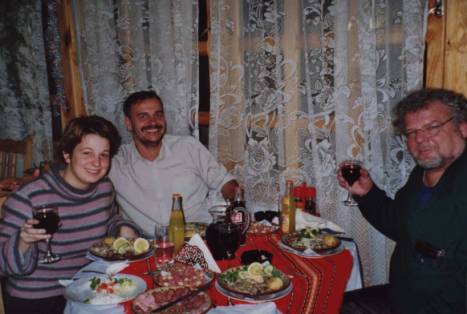 No sooner said than done – at 26th December 2001 we were together to spend again exciting time. Winter 2001-2002 was chilly and snowy in BG - just like winters I have remembered in my childhood in the middle of the 60ty.
For the New Year night we decided to visit Melnik town – in the summer I have been mentioned them about the excellent local wines in this region. And we were so disappointed to find out that no free beds in all the little town. Well, we went back to Sandanski town (10 miles from Melnik), there we found rooms for the night in a local hospital-sanatorium, well, why not, next to it there was a beautiful local restaurant, a remarkable night we had in it.
I was surprised to see haw good dancer is Birger dancing all the night our very hard local dances (I really can not do it). Yes, we again spent a great time. Birger was happy to shut by a riffle in the night welcoming the New Year – an usual custom at this place.
And can you guess what did we decide in the end? – a bike tour of course - 10 – 30 August 2002. Unfortunately I have no many photos documented this tour I still had no a digital camera, but for 16 days we did a combined – train/bike tour in the north plane part of the country – from Silistra town to Durankulak at the north seaside and to the south along the seaside reaching in the end our favorite camp place - Aheloi, where we repeated again the wine research we did previous summer.
All we loved the wilderness, so in this tour we visited remote places and nights we stood in our tents camping in woods near fields. Never mind it was so raining summer, the rain was always far from us, we had only 3 hours of heavy rain in the camp place near Durankulak, luckily we were in the restaurant at this moment, but I still can not forget our tent Maya left open and the little river going trough it after rain stopped … I was sure we will repeat it soon … it happened again summer 2004.
Summer 2004 was not easy for us. Maya ended her secondary school and she had to go in for examinations in the University. After 4 years of dealing with the math problems in the end she was very successful in her examinations (not easy in BG) and she was invited to study in the Technical University as well as in the Economics University in Sofia. Both we decided that the second one is more appropriate for her, so all we – me, Maya, Ulla and Birger went and enrolled her in the Economics University, her specialty is a Busyness Informatics - it was 23rd August.
Next day we were on our bikes and did again a beautiful tour in BG - touring in Vitosha mountain, Rodopi mountain, Thracian field and in the end – along the seaside of course, but to the south, not Aheloy this time. Because I was busy after the 7th September, Maya ended alone the tour with Ulla and Birger.
We again had a big chance with the weather – only 15 minutes rain in Rodopi mountain. Again we were in the wilderness, but this time we spent 2 nights in hotels.